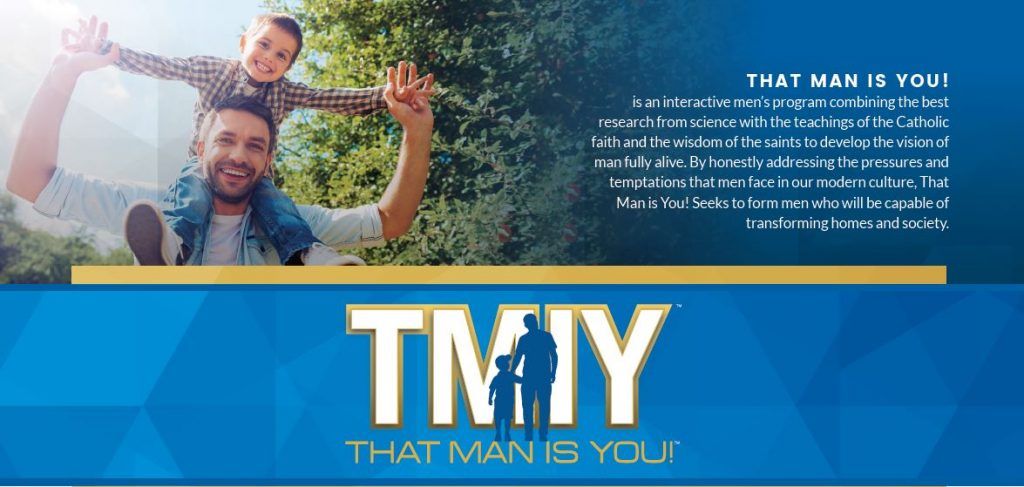 THAT MAN IS YOU! is an interactive men's program combining the best research from science with the teachings of the Catholic faith and the wisdom of the saints to develop the vision of man fully alive. By honestly addressing the pressures and temptations that men face in our modern culture, That Man is You! Seeks to form men who will be capable of transforming homes and society.
All men in Oshkosh are welcome to join us for this free program!
2019-2020 Theme: The Fight of Faith
DISCOVER:
New speakers, new personalities, and new topics, while still building on the foundational years of TMIY formation.
A battle and calling that is much greater than yourself with a US Naval Officer.
Epic battle stories from the New Testament and Old, including the greatest battle story ever told with The Dynamic Deacon.
The calling to great sanctity and the support of Christian brotherhood.
A life and a marriage on the brink of collapse from two TMIY Core Team Leaders.
Discipleship as the counter solution to lukewarm Christianity.
An intimacy with The Father as his beloved sons and heirs to his Kingdom.
A Lenten Journey with Steve Bollman into the secrets of Christ's heart.
An adventure filled with Scripture revealing the keys to interpreting reality.
Program Information
All Oshkosh Catholic Parishes • Wednesday Mornings • St. Jude's Leannah Hall (next to Sacred Heart Church) • Starting on September 18, 2019
Schedule for Each Session
5:15 am – Doors Open
5:30 am – Fellowship & Breakfast
6:00 am – Presentation Video
6:30 am – Small Group Discussion
7:00 am – Session Adjourns
Registration Information
Register for this free program at St. Jude, St. Raphael, or Most Blessed Sacrament Offices, or contact Bruce at 231-3527 (bdumann@new.rr.com), or register in person at any session, or online at www.thatmanisyou.org.